Online Training Courses
"We now have a viable option for our remote employees. This is a game changer for us!" Tech Firm Chief Learning Officer
Whether you are a manager looking to develop your staff or an individual looking to build your professional skills, OAA offers a series of courses you can take from anywhere. Unlike some on-line courses, our courses combine industry-leading research-based assessments combined with world-class facilitation to maximize the benefit to the learner. Listed below are the current offerings. To learn more and enroll: Click on the listing to see the next available offering and enroll.
Each course involves two components
Take a 15-20 min online assessment prior to the virtual course date.
Attend the virtual course which will be held via Zoom.
All courses are $400 USD per person.
Upgrade Your
Interpersonal Skills

with Everything DiSC Workplace®

Discover your preferred interpersonal style and how you can effectively work with other styles. The payoff is better communication, bigger impact through building more effective relationships at work.
Workplace
Engage every individual in building more effective relationships at work. 
Productive Conflict
Harness the power of conflict by transorming descructive behavior into productive responses.
Master
Productive Conflict

with Everything DiSC Productive Conflict®

How to master productive conflict by avoiding unhealthy behaviors and engaging in healthy behaviors that increase the quality of discussions, increase commitment and buy-in and elevate collaboration and innovation.
Increase Your
Emotional Intelligence

with Everything DiSC Agile EQ®

Increase your performance and versatility by improving your emotional intelligence range and response. Broaden your ability to contribute across a wider range of challenges and contexts.
Agile EQ
Develop the emotional intelligence necessary to support a thriving agile culture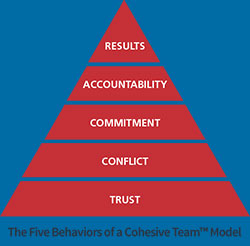 Five Behaviors of a cohesive Team
Become A Better
Team Player

with Five Behaviors Of A Cohesive Team – Personal Development

Discover how to become a better teammate, what it takes for teams to operate at peak performance and what you personally can do to help your current and future teams. Personal development was designed specifically to work for individuals; participants do not all need to be part of the same team.
Proud
Certified

Facilitators