by Sebastian Junger
We have a strong instinct to belong to small groups defined by clear purpose and understanding–"tribes." This tribal connection has been largely lost in modern society, but regaining it may be the key to our psychological survival.
by Kegan and Lahey
The seminal text by Kegan and Lahey outlining their "Immunity to Change" mapping process. Great resources for leaders trying to help themselves and others reshape their approach to work and team dynamics.
by Heifetz, Grashow and Linsky
This a field guide for practitioners aspiring to help their organization, team and colleagues survive and thrive in these dynamic times.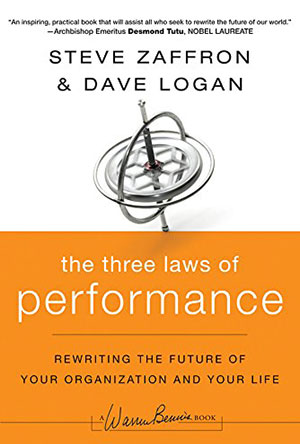 by Logan and Zaffron
When things are not working, people struggle with which part of the problem to address first. The reason that fixing a problem often does not deliver the expected results, is because the underlying dynamics that perpetuated the problem are untouched. The Three Laws of Performance are about rewriting the future, solving problems, and achieving breakthrough performance.
by Zander and Zander
Organized into a series of "practices" the Zanders have created an amazing array of techniques and habits that will open up your work and life to levels you have not likely imagined. Great plane reading.
by Bazigos, De Smet, and Gagnon (McKinsey Series Reprint)
This article provides a definition and rationale for why stable organization need more speed and speedy organizations are best served if they can increase their stability – great introductory article.