Team Building Workshop
"Not only does Jeff understand the requirements of leadership but his insights into how adults learn bring it alive for us." – Adaptive Leadership Workshop Participant
Due to the pandemic, we have converted all our offerings to be available as an "in-person" or a virtual workshop.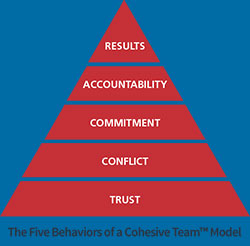 Five Behaviors of a cohesive Team
Become A High-Performance
Team

 with Five Behaviors Of A Cohesive Team – Team Development

Discover what it takes for teams to operate at peak performance and what your team can do to improve your performance right away.
Day 1 – Laying the Foundation
Day 2 – Creating Possibilities
Day 3 – Taking The Path Forward
Want to have a conversation about what's happening with your team?